Installing The Soft Top
NOTE: The following procedures are for first time set up only. For future soft top procedures, refer to "Soft Top" in this section.
1. Locate and remove the following items prior to hard top removal:
• Right and left door frames
• Door frame attachment knobs (four for two-door models, six for four-door models)
• Right and left quarter windows
• Rear window
2. Remove the hard top. Refer to "Freedom Top Three- Piece Modular Hard Top — Front/Rear Panel Removal" in this section.
3. Install the door frames. Refer to "Door Frame" in this section.
4. If the soft top has been removed, follow these steps to reinstall the soft top. If the soft top is on the vehicle, proceed to step #5.
a. If the pivot brackets have been removed, unzip the sport bar covers and attach the pivot brackets to the sports bar with the four screws that were removed using a #T30 Torx head driver. Re-cover and re-zip the sport bar covers.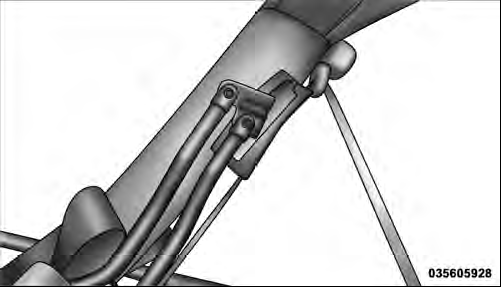 b. Lay the soft top into the rear of the vehicle with the bows pointing forward and the curved portion of the bows facing upward.
c. Reattach the knuckles onto the metal pivot brackets.
NOTE: To aid in reattaching the knuckles, you may carefully tap on the knuckles using a rubber mallet.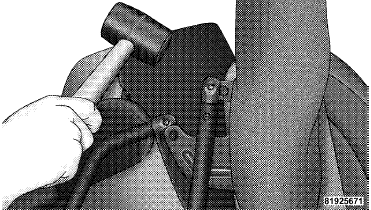 d. Screw the pivot screws back into place using a #T30 Torx head driver. Secure them until they are snug, being careful not to cross-thread the screws or overtighten.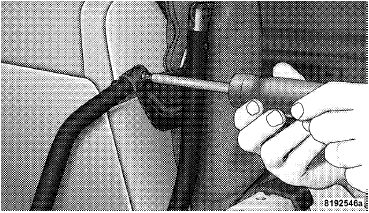 CAUTION!
Do not overtighten the screws. You can strip the screws if they are overtightened.
5. Remove the swing gate bar (black metal bar for bottom of rear window) and set aside.
NOTE: Be sure the wire harness in the left rear corner is not tangled in the soft top bows before you lift the top.
6. Unsnap and remove the black boot cover. This cover should be discarded. It was intended as a protective cover for shipping only.
NOTE: A visual instruction sheet is enclosed in the dual top wrap.
7. Put up the soft top. Refer to "Soft Top — Putting Up The Soft Top" in this section.
See also:
Shifting Procedures
NOTE: If any of the requirements to select a new transfer case position have not been met, the transfer case will not shift, the indicator light for the previous position will remain on, and the ...
Operating Instructions — Radio Mode
NOTE: The ignition switch must be in the ON or ACC position to operate the radio. Power Switch/Volume Control (Rotary) Push the ON/VOLUME control knob to turn on the radio. Push the ON/VOLUME co ...
5.7L Engine
The standard power steering system will give you good vehicle response and increased ease of maneuverability in tight spaces. The system will provide mechanical steering capability if power assi ...