Front Panel(s) Installation With Rear Hard Top Removed
1. Turn the left and right panels over and move the spacer block (located on the rear of the panel) upward 90 degrees.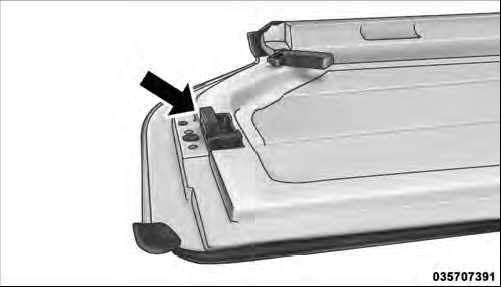 NOTE: The front panel(s) must be positioned properly to ensure sealing. Set the panels on the windshield frame so that there is no overhang. Also, make sure that the panels are sitting flush with the body.
2. Install the right panel first, then the left panel.
3. Reinstall the panel(s) using the same steps for removal in reverse order.
See also:
Operating Information And Precautions
The Command-Trac II transfer case provides four positions: • Two–wheel drive (2WD) high range • Four-wheel drive (4WD LOCK) high range • Four-wheel drive (4WD LOW) low range • Neutra ...
Sound Horn On Lock
This feature will cause the horn to chirp when the doors are locked with the RKE transmitter. This feature can be turned on or turned off. To change the current setting, proceed as follows: • F ...
DVD Audio Support
When a DVD-Audio disc is inserted in the VES™ DVD player, the DVD-Audio title on the disc is played by default (most DVD-Audio discs also have a Video title, but the Video title is ignored). A ...