Door Frame Removal
1. Unscrew and remove the door frame attachment knobs (two per door).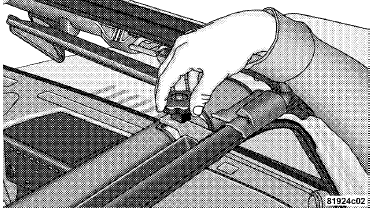 WARNING!
Use both hands to remove the door frames. The door frames will fold and could cause injury if both hands are not used.
2. Place one hand on the upper rear and one hand on the front of the door frame.
3. Pull the frame toward you with your rearward hand to remove the frame from the vehicle.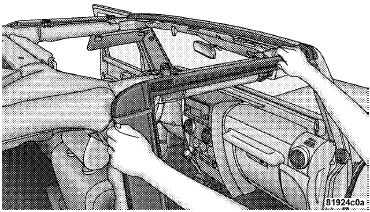 4. Screw the knobs back into the door frame and fold for storage. Store in a secure location.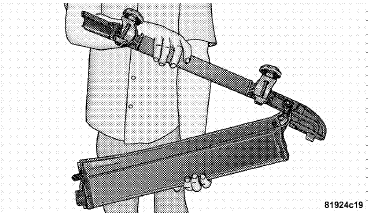 WARNING!
Never store the door frames in your vehicle. In an event of an accident, a loose door frame many cause personal injury. If removed, always store the door frames outside of the vehicle.
See also:
Event Data Recorder (EDR)
This vehicle is equipped with an event data recorder (EDR). The main purpose of an EDR is to record, in certain crash or near crash-like situations, such as an air bag deployment or hitting a ro ...
Outside Air Intake
Make sure the air intake, located directly in front of the windshield, is free of obstructions such as leaves. Leaves collected in the air intake may reduce airflow, and if they enter the plenum, ...
Windshield Wiper Blades
Clean the rubber edges of the wiper blades and the windshield periodically with a sponge or soft cloth and a mild non-abrasive cleaner or use the washer solvent. This will remove accumulations o ...