Rear Window Wiper/Washer — If Equipped
A rotary switch on the center portion of the control lever (located on the right side of the steering column) controls the operation of the rear wiper/washer function.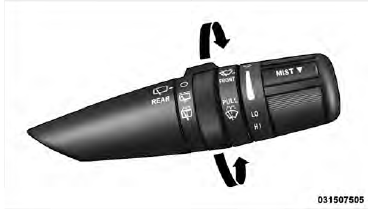 Rear Wiper/Washer Control

Rotate the switch upward to the first detent position for rear wiper operation.

Rotate the switch upward past the first detent to activate the rear washer. The washer pump and the wiper will continue to operate as long as the switch is held. Upon release, the wiper will cycle two to three times before returning to the set position.
If the rear wiper is operating when the ignition is turned to the LOCK position, the wiper will automatically return to the "Park" position. When the vehicle is restarted, the wiper will resume function at whichever position the switch is set at.
See also:
Front Fog Lamp
1. Open the hood. 2. Reach behind the headlamp housing to access the bulb. 3. Rotate the bulb's socket counterclockwise, and remove the bulb and socket assembly from the fog lamp housing. 4. ...
Ignition Off Operation
The power sunroof switches can be programmed to remain active for up to approximately ten minutes after the ignition switch has been turned OFF. Refer to "Electronic Vehicle Information Center ...
Front Panel(s) Removal
NOTE: Left panel must be removed before removing right panel. 1. Fold down the sun visor, and move it to the side. 2. Turn the rear fasteners (knobs) (located on the overhead speaker bar assembly) ...