Trip Conditions
Trip Odometer (ODO) / ECO (Fuel Saver Indicator) — If Equipped
This display shows the distance traveled since the last reset. Press and release the right button (on the instrument cluster) to switch from odometer to Trip A or Trip B or to ECO. Press and hold the right button while the odometer/trip odometer is displayed to reset.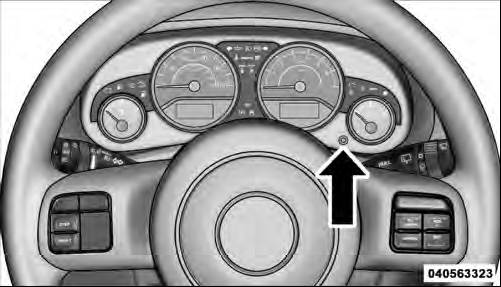 Trip Display Button
Trip A
Shows the total distance traveled for trip A since the last reset.
Trip B
Shows the total distance traveled for trip B since the last reset.
ECO (Fuel Saver Indicator) — If Equipped
The ECO indicator will illuminate when you are driving in a fuel efficient manner and can be used to modify driving habits in order to increase fuel economy.
See also:
Electronic Speed Control — If Equipped
When engaged, the Electronic Speed Control takes over accelerator operations at speeds greater than 25 mph (40 km/h). The Electronic Speed Control buttons are located on the right side of the steer ...
Tread Wear Indicators
Tread wear indicators are in the original equipment tires to help you in determining when your tires should be replaced. 1 — Worn Tire 2 — New Tire These indicators are molded into the b ...
Traction Downhill
Shift the transmission into a low gear and the transfer case to 4WD LOW range. Let the vehicle go slowly down the hill with all four wheels turning against engine compression drag. This will per ...