Compass Variance
Compass Variance is the difference between Magnetic North and Geographic North. To compensate for the differences, the variance should be set for the zone where the vehicle is driven, per the zone map. Once properly set, the compass will automatically compensate for the differences and provide the most accurate compass heading.
NOTE: Magnetic materials should be kept away from the top of the instrument panel; this is where the compass sensor is located.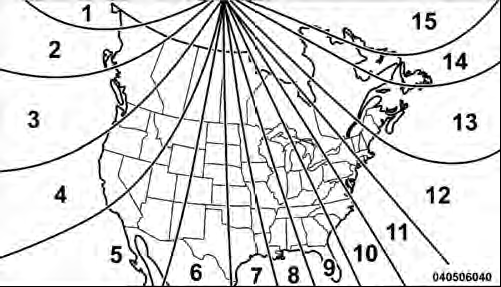 Compass Variance Map
To Change The Compass Variance:
1. Turn the ignition switch RUN (it is not necessary to start the engine).
2. Press the MENU button until Personal Settings (Customer-Programmable Features) displays in the EVIC.
3. Press the DOWN button until "Compass Variance" message and the last variance zone number displays in the EVIC.
4. Press and release the SELECT button until the proper variance zone is selected according to the map.
5. Press and release the COMPASS button to exit.
See also:
EXTERIOR
At first sight, I thought the 2011 Jeep Grand Cherokee was a Porsche Cayenne. With a second glance, I noticed the distinctive front grille and realized that this was indeed a Grand Cherokee. It ju ...
Transmission Limp Home Mode
Transmission function is monitored electronically for abnormal conditions. If a condition is detected that could result in transmission damage, Transmission Limp Home Mode is activated. In this mo ...
Wind Buffeting
Wind buffeting can be described as the perception of pressure on the ears or a helicopter-type sound in the ears. Your vehicle may exhibit wind buffeting with the windows down, or the sunroof (i ...