Supported MP3 File Formats
The radio will recognize only files with the *.MP3 extension as MP3 files. Non-MP3 files named with the *.MP3 extension may cause playback problems. The radio is designed to recognize the file as an invalid MP3 and will not play the file.
When using the MP3 encoder to compress audio data to an MP3 file, the bit rate and sampling frequencies in the following table are supported. In addition, variable bit rates (VBR) are also supported. The majority of MP3 files use a 44.1 kHz sampling rate and a 192, 160, 128, 96 or VBR bit rate.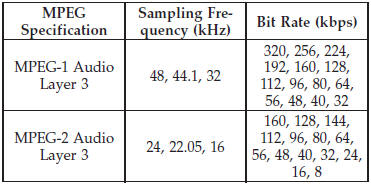 ID3 Tag information for artist, song title, and album title are supported for version 1 ID3 tags. ID3 version 2 is not supported by the radios.
Playlist files are not supported. MP3 Pro files are not supported.
See also:
Electronic Brake Control System
Your vehicle is equipped with an advanced electronic brake control system that includes Anti-Lock Brake System (ABS), Traction Control System (TCS), Brake Assist System (BAS), Hill Start Assist (H ...
Top Tether Strap Attachment
For the center seating position route the tether strap over the seatback and headrest then attach the hook to the top tether anchorage located on the back of the seat behind the gap panel. For t ...
If You Need Assistance
The manufacturer and its authorized dealers are vitally interested in your satisfaction. We want you to be happy with our products and services. Warranty service must be done by an authorized dea ...