MUSIC TYPE Button
Pressing this button once will turn on the Music Type mode for five seconds. Pressing the MUSIC TYPE button or turning the TUNE/SCROLL control knob within five seconds will allow the program format type to be selected.
Many radio stations do not currently broadcast Music Type information.
Toggle the MUSIC TYPE button to select the following format types: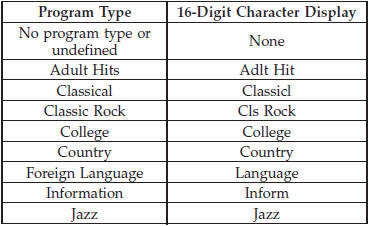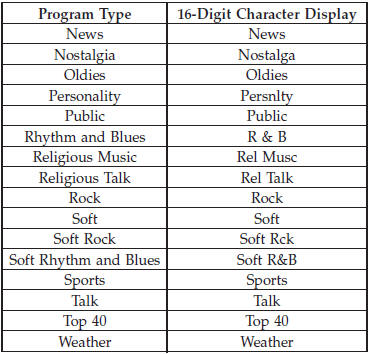 By pressing the SEEK button when the Music Type icon is displayed, the radio will be tuned to the next frequency station with the same selected Music Type name. The Music Type function only operates when in the FM mode.
If a preset button is activated while in the Music Type (Program Type) mode, the Music Type mode will be exited and the radio will tune to the preset station.
See also:
Commands
The Voice Command system understands two types of commands. Universal commands are available at all times. Local commands are available if the supported radio mode is active. ...
Rearming The System
If something triggers the alarm, and no action is taken to disarm it, the Vehicle Security Alarm will turn off the horn after three minutes, turn off all of the visual signals after 15 minutes, an ...
To Enter Remote Start Mode
Press and release the REMOTE START button on the RKE transmitter twice within five seconds. The vehicle doors will lock, the parking lights will flash and the horn will chirp twice (if progra ...