Steering Wheel Audio Controls
The remote sound system controls are located on the rear surface of the steering wheel. Reach behind the wheel to access the switches.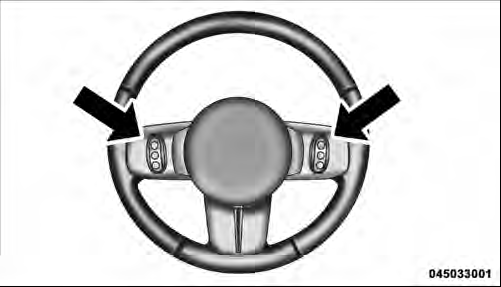 Remote Sound System Controls (Back View Of Steering Wheel)
The right-hand control is a rocker-type switch with a pushbutton in the center and controls the volume and mode of the sound system. Pressing the top of the rocker switch will increase the volume, and pressing the bottom of the rocker switch will decrease the volume.
Pressing the center button will make the radio switch between the various modes available (AM/FM/SAT/ CD/HDD/AUX/VES, etc.).
The left-hand control is a rocker-type switch with a pushbutton in the center. The function of the left-hand control is different depending on which mode you are in.
The following describes the left-hand control operation in each mode.
See also:
Redial
• Press the button to begin. • After the "Ready" prompt and the following beep, say "Redial". • The Uconnect™ Phone will call the last number that was dialed from your mobile ph ...
Traction Downhill
Shift the transmission into a low gear and the transfer case to 4WD LOW range. Let the vehicle go slowly down the hill with all four wheels turning against engine compression drag. This will per ...
INTERIOR
The 2011 Grand Cherokee's cabin is easy on the eyes and soft to the touch. The wood-grain and chrome trim is sexy and the leather-trimmed seats are comfortable. Front and rear seats and the steeri ...