Shifting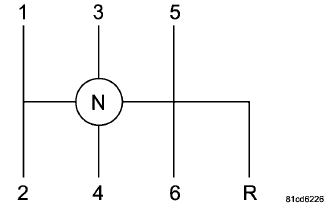 Shift Pattern
Fully press the clutch pedal before shifting gears. As you release the clutch pedal, lightly press the accelerator pedal.
You should always use first gear when starting from a standing position.
Recommended Vehicle Shift Speeds
To utilize your manual transmission efficiently for both fuel economy and performance, it should be upshifted as listed in recommended shift speed chart. Shift at the vehicle speeds listed for acceleration. When heavily loaded or pulling a trailer these recommended up-shift speeds may not apply.

NOTE: Vehicle speeds shown in the chart above are for 2H and 4H only, vehicle speeds in 4L would be significantly less.
See also:
Manual Heating And Air Conditioning
Manual Temperature Control The Manual Temperature Controls consist of a series of outer rotary dials and inner push knobs. ...
Spare Tire Stowage
To remove the spare tire from the carrier, remove the tire cover, if equipped, and remove the lug nuts with the lug wrench turning them counterclockwise. NOTE: If you have added aftermarket accesso ...
Paging
To learn how to page, refer to "Working with Automated Systems". Paging works properly except for pagers of certain companies, which time out a little too soon to work properly with the Ucon ...