Trailer Hitch Classification
The following chart provides the industry standard for the maximum trailer weight a given trailer hitch class can tow and should be used to assist you in selecting the correct trailer hitch for your intended towing condition.
Refer to the Trailer Towing Weights (Maximum Trailer Weight Ratings) chart for the Max. GTW towable for your given drivetrain.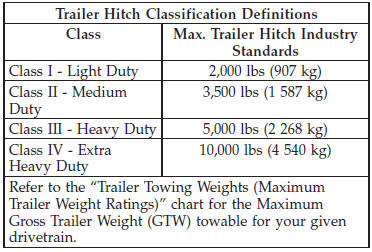 All trailer hitches should be professionally installed on your vehicle.
See also:
Tires
Examine tires for excessive tread wear and uneven wear patterns. Check for stones, nails, glass, or other objects lodged in the tread or sidewall. Inspect the tread for cuts and cracks. Inspect ...
Glass Surfaces
All glass surfaces should be cleaned on a regular basis with MOPAR Glass Cleaner or any commercial household-type glass cleaner. Never use an abrasive type cleaner. Use caution when cleaning the ...
Power Windows — If Equipped
The power window switches are located on the instrument panel below the radio. Press the switch downward to open the window and upward to close the window. Power Window Switches The top left swi ...