Trailer And Tongue Weight
Always load a trailer with 60% to 65% of the weight in the front of the trailer. This places 10% to 15% of the Gross Trailer Weight (GTW) on the tow hitch of your vehicle. Loads balanced over the wheels or heavier in the rear can cause the trailer to sway severely side-to-side which will cause loss of control of vehicle and trailer.
Failure to load trailers heavier in front is the cause of many trailer collisions.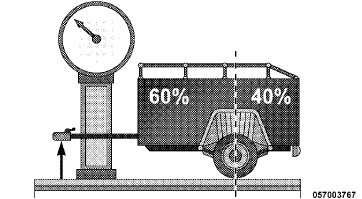 Consider the following items when computing the weight on the rear axle of the vehicle:
• The trailer tongue weight.
• The weight of any other type of cargo or equipment put in or on your vehicle.
• The weight of the driver and all passengers.
NOTE: Remember that everything put into or on the trailer adds to the load on your vehicle. Also, additional factory-installed options, or authorized dealer-installed options, must be considered as part of the total load on your vehicle. Refer to the "Tire Safety Information/Tire and Loading Information Placard" in "Starting and Operating" for the maximum combined weight of occupants and cargo for your vehicle.
See also:
Operation Instructions — CD Mode For CD And MP3 Audio Play
NOTE: • The ignition switch must be in the ON or ACC position to operate the radio. • This radio is capable of playing compact discs (CD), recordable compact discs (CD-R), rewritable compac ...
Electronic Speed Control — If Equipped
When engaged, the Electronic Speed Control takes over accelerator operations at speeds greater than 25 mph (40 km/h). The Electronic Speed Control buttons are located on the right side of the steer ...
Service Contract
You may have purchased a service contract for a vehicle to help protect you from the high cost of unexpected repairs after the manufacturer's New Vehicle Limited Warranty expires. The manufact ...