Towing Requirements – Trailer Lights And Wiring
Whenever you pull a trailer, regardless of the trailer size, stop lights and turn signals on the trailer are required for motoring safety.
The Trailer Tow Package will include a four–pin wiring harness. Use a factory-approved trailer harness and connector.
NOTE: Do not cut or splice wiring into the vehicles wiring harness.
The electrical connections are all complete to the vehicle but you must mate the harness to a trailer connector.
Refer to the following illustration.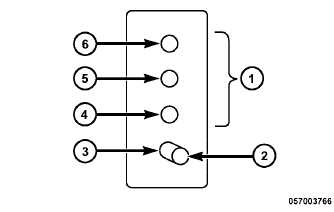 Four-Pin Connector
1 — Female Pins
2 — Male Pin
3 — Ground
4 — Park
5 — Left Stop/Turn
6 — Right Stop/Turn
See also:
Prepare For The Appointment
If you're having warranty work done, be sure to have the right papers with you. Take your warranty folder. All work to be performed may not be covered by the warranty. Discuss additional charg ...
Voice Training
For users experiencing difficulty with the system recognizing their voice commands or numbers, the Uconnect™ Phone Voice Training feature may be used. To enter this training mode, follow one o ...
Hydraulic Clutch Fluid – Manual Transmission
The clutch hydraulic system is fed by a segregated volume of fluid within the brake system master cylinder reservoir. In the event of leakage or wear, use only manufacturer's recommended brake f ...