Shift Lever Override
If a malfunction occurs and the shift lever cannot be moved out of the PARK position, you can use the following procedure to temporarily move the shift lever:
1. Firmly apply the parking brake.
2. Turn the ignition to the ON/RUN position without starting the engine (engine Off).
3. Using a screwdriver or similar tool, carefully remove the shift lever override access cover, located on the PRNDL bezel.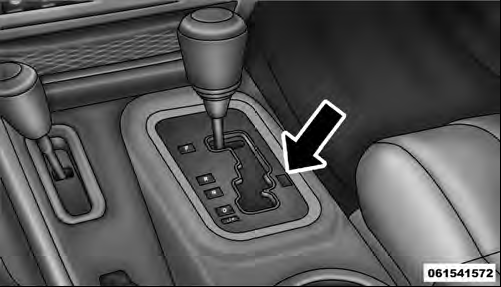 Shift Lever Override Access Cover
4. Press and maintain firm pressure on the brake pedal.
5. Using the screwdriver or similar tool, reach into the opening and press and hold the shift lever override.
6. Move the shift lever to NEUTRAL.
7. The vehicle may then be started in NEUTRAL.
8. Reinstall the shift lever override access cover.
See also:
Fluid Level Check
Check the fluid level while the transmission is at normal operating temperature 180° F (82° C). This occurs after at least 15 miles (25 km) of driving. At normal operating temperature, the fluid ...
Hazard Warning Flashers
The Hazard Warning flasher switch is located on the instrument panel below the climate controls. Press the switch to turn on the Hazard Warning flasher. When the switch is activated, all direct ...
Operation Instructions — CD Mode For CD And MP3 Audio Play
NOTE: • The ignition switch must be in the ON/RUN or ACC position to operate the radio. • This radio is capable of playing compact discs (CD), recordable compact discs (CD-R), rewritable co ...