Remote Keyless Entry (RKE)
This system allows you to lock or unlock the doors and liftgate, or activate the panic alarm, from distances up to approximately 66 ft (20 m) using a hand-held Key Fob with RKE transmitter. The RKE transmitter does not need to be pointed at the vehicle to activate the system.
NOTE: Inserting the Key Fob with RKE transmitter into the ignition switch disables the system from responding to any button presses from that RKE transmitter. Driving at speeds 5 mph (8 km/h) and above disables the system from responding to all RKE transmitter buttons for all RKE transmitters.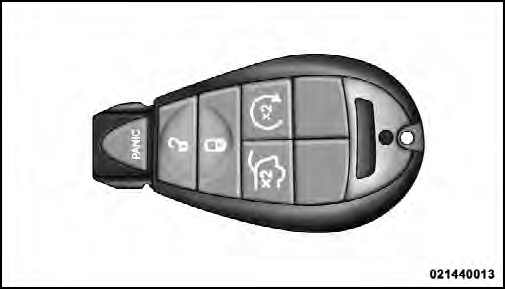 Key Fob With Five-Button RKE Transmitter
See also:
DVD Region Codes
The VES™ DVD player and many DVD discs are coded by geographic region. These region codes must match in order for the disc to play. If the region code for the DVD disc does not match the regio ...
Compass Variance
Refer to "Compass Display" for more information. ...
Driving Through Water
Although your vehicle is capable of driving through water, there are a number of precautions that must be considered before entering the water. NOTE: Your vehicle is capable of water fording in u ...