Average Fuel Economy / Fuel Saver Mode — If Equipped
Shows the average fuel economy since the last reset.
When the fuel economy is reset, the display will read "RESET" or show dashes for two seconds. Then, the history information will be erased, and the averaging will continue from the last fuel average reading before the reset.
The FUEL SAVER MODE message will display above the average fuel economy in the EVIC display. This message will appear whenever the Multi-Displacement System (MDS) (if equipped) allows the engine to operate on four cylinders, or if you are driving in a fuel efficient manner.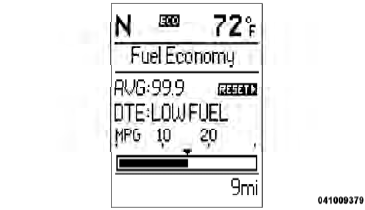 Fuel Saver Mode — On
This feature allows you to monitor when you are driving in a fuel efficient manner, and it can be used to modify driving habits in order to increase fuel economy.
See also:
Adaptive Cruise Control (ACC) — If Equipped
Adaptive Cruise Control (ACC) increases the driving convenience provided by cruise control while traveling on highways and major roadways. However, it is not a safety system and not designed to ...
Tire Spinning
When stuck in mud, sand, snow, or ice conditions, do not spin your vehicle's wheels above 30 mph (48 km/h). WARNING! Fast spinning tires can be dangerous. Forces generated by excessive wheel ...
Using This Feature
By using iPod cable or external USB device to connect to USB port: • The audio device can be played on the vehicle's sound system, providing metadata (artist, track title, album, etc.) info ...