Door Frame Removal
1. Unscrew and remove the door frame attachment knobs (two per door).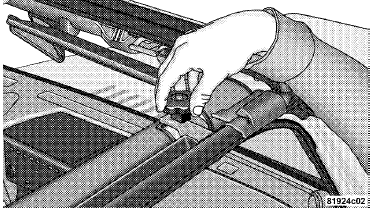 WARNING!
Use both hands to remove the door frames. The door frames will fold and could cause injury if both hands are not used.
2. Place one hand on the upper rear and one hand on the front of the door frame.
3. Pull the frame toward you with your rearward hand to remove the frame from the vehicle.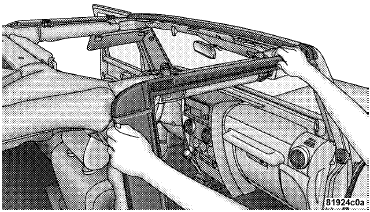 4. Screw the knobs back into the door frame and fold for storage. Store in a secure location.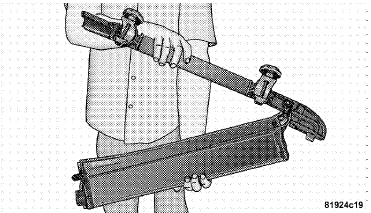 WARNING!
Never store the door frames in your vehicle. In an event of an accident, a loose door frame many cause personal injury. If removed, always store the door frames outside of the vehicle.
See also:
Tire Pressure
Proper tire inflation pressure is essential to the safe and satisfactory operation of your vehicle. Three primary areas are affected by improper tire pressure: ...
Driving Up Hill
Once you have determined your ability to proceed and have shifted into the appropriate gear, line your vehicle up for the straightest possible run. Accelerate with an easy constant throttle and ap ...
Spare Tire Removal
Fit the jack handle extension over the drive nut located in the rear cargo area inside the vehicle. Use the lug wrench to rotate the nut counterclockwise until the spare is on the ground with en ...