Compass Variance
Compass Variance is the difference between Magnetic North and Geographic North. To compensate for the differences, the variance should be set for the zone where the vehicle is driven, per the zone map. Once properly set, the compass will automatically compensate for the differences and provide the most accurate compass heading.
NOTE: Magnetic materials should be kept away from the top of the instrument panel; this is where the compass sensor is located.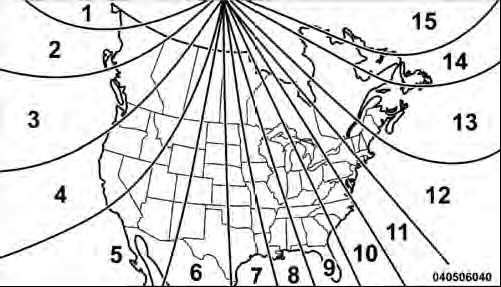 Compass Variance Map
To Change The Compass Variance:
1. Turn the ignition switch RUN (it is not necessary to start the engine).
2. Press the MENU button until Personal Settings (Customer-Programmable Features) displays in the EVIC.
3. Press the DOWN button until "Compass Variance" message and the last variance zone number displays in the EVIC.
4. Press and release the SELECT button until the proper variance zone is selected according to the map.
5. Press and release the COMPASS button to exit.
See also:
Summer Operation
The engine cooling system in air-conditioned vehicles must be protected with a high-quality antifreeze coolant to provide proper corrosion protection and to protect against engine overheating. A ...
Accessing The Storage Bin
NOTE: The spring-loaded latches that retain the storage bin cover to the cargo load floor should not be used as cargo tie-downs. 1. Flip the spring-loaded latch pull-loops up. Cargo Load Floor ...
Inside Day/Night Mirror
A two-point pivot system allows for horizontal and vertical adjustment of the mirror. The mirror should be adjusted to center on the view through the rear window. Headlight glare can be reduced by ...