Child-Protection Door Lock System — Rear Doors
To provide a safer environment for small children riding in the rear seats, the rear doors are equipped with Child-Protection Door Lock system.
To Engage Or Disengage The Child-Protection Door Lock System
1. Open the rear door.
2. Insert the tip of the emergency key into the lock and rotate to the LOCK or UNLOCK position.
3. Repeat steps 1 and 2 for the opposite rear door.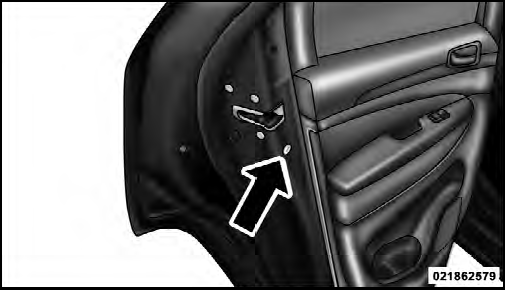 Child-Protection Door Lock Location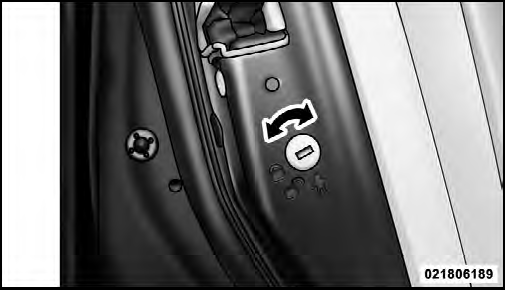 Child-Protection Door Lock Function
WARNING!
Avoid trapping anyone in a vehicle in a collision.
Remember that the rear doors can only be opened from the outside when the Child-Protection locks are engaged (locked).
NOTE: For emergency exit from the rear seats when the Child-Protection Door Lock System is engaged, manually raise the door lock knob to the unlocked position, roll down the window, and open the door using the outside door handle.
See also:
Closing Power Shade — Express
Press the switch forward and release it within one-half second and the shade will close automatically from any position. The shade will close fully and stop automatically. This is called "Expre ...
A/C Air Filter — If Equipped
The A/C Filter prevents most dust and pollen from entering the cabin. The filter acts on air coming from outside the vehicle and recirculated air within the passenger compartment. Refer to "Main ...
Important Notes For Single Video Screen System
• VES™ is able to transmit two channels of stereo audio simultaneously. • In split screen mode the left side equates to Channel 1 and right side equates to Channel 2. • If a video source ...